FC Series Breath Alcohol Testers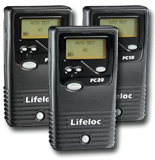 The FC Series of portable breath testers or "breathalyzers" are the professional's choice for accuracy, reliability, and ease of use. Engineered and manufactured in the United States for Law Enforcement, Corrections, Drug Courts, Schools and related applications, the FC Series of platinum fuel cell alcohol testers offer long working life and unsurpassed test accuracy. With the fastest test and recovery times of any comparable instruments, the FC Series are designed for maximum operator productivity and safety.
The four models of the FC Series handle the full range of alcohol testing from preliminary alcohol screening to the most demanding applications requiring extensive test memory, computer interface and wireless printing. The FC10, FC10Plus, FC20 and FC20BT are DOT/NHTSA approved and included on the US DOT conforming products list.
Our premium model, the FC20BT, combines all available features of the FC Series with wireless and encrypted Bluetooth™ printing and data entry.
Contact Lifeloc Singapore at [email protected] for any enquiries